Dan's Custom Carts features hassle-free pricing. We don't play games. No bait and switch. No hidden fees.
We guarantee every cart we sell.
All rebuilt Club Car golf carts come with a 2 year warranty and here is the reason why:
We take a Club Car golf cart and strip it down to the bare chassis.
We do a complete service to the chassis to verify that all mechanical and electrical systems are up to par.
Then selected areas of the aluminum chassis is sanded and painted.
The body is sanded and painted to the customer's specifications.
Other attachments such as the roof supports are sanded and painted.
The chassis is then wired for the lighting system the customer ordered.
New batteries are installed in the cart.
The body and roof is then reattached to the chassis using all new fasteners.
Pinstripe is then applied to the body.
The lights and any other accessories are attached to the cart.
New tires and wheels are attached to the cart.
New seat covers are fitted and installed to the cart.
A final check is done to verify that all accessories are installed.
A through test drive verifies that the cart is in tip top shape.
And a two year warranty guarantees it.

Basic Club Car

We start off with the basic Club Car golf cart.
You would want to pick your favorite color of course. And a contrasting pinstripe would help it to stand out.
Most developments require that you have headlights and taillights. Of course if you plan on driving at night you will want them anyhow.
You need a rain curtain because this is Florida after all. And of course you would need a tinted windshield.
You know, it would be nice to see your friends when they are trying to sneak up behind you, so a wink mirror comes in handy.
You're probably going to play golf once in a while, so why not a sand bucket or two.
And you have got to show off your new wheels with some nice wheel covers.
A Little Fancier

Sometimes you just want to show off. Take your basic Club Car and then spruce it up!
How about a little flasher paint job? You know, we can even paint your cart to match you car, your house, even your airplane. Yes we do get those requests.
Maybe a little different wheel covers.
Instead of plain vinyl rain curtains, how about a set of custom made Sunbrella enclosures with a custom club protector.
Might just as well have matching Sunbrella seat covers.
And since we're decking it out, lets paint the roof to match the rest of the cart.
Although it is not shown on this cart, we often install turn signals and brake lights too.
Don't forget a horn so you can get your friends attention, not that the cart won't do it on it's own.
His and Hers

Now you know that if He gets one, She has to have one too!
We often build carts for both husband and wife.
For that matter, we often build carts for neighbors too.
You see, if you get a new cart, you just know that your neighbor is going to want to get one too.
We have even had father and sons get carts.
We can, and have, painted both carts the same color.
Of course, some people have them painted with their favorite team colors, so if the two of you don't agree on teams ...
Pride in Workmanship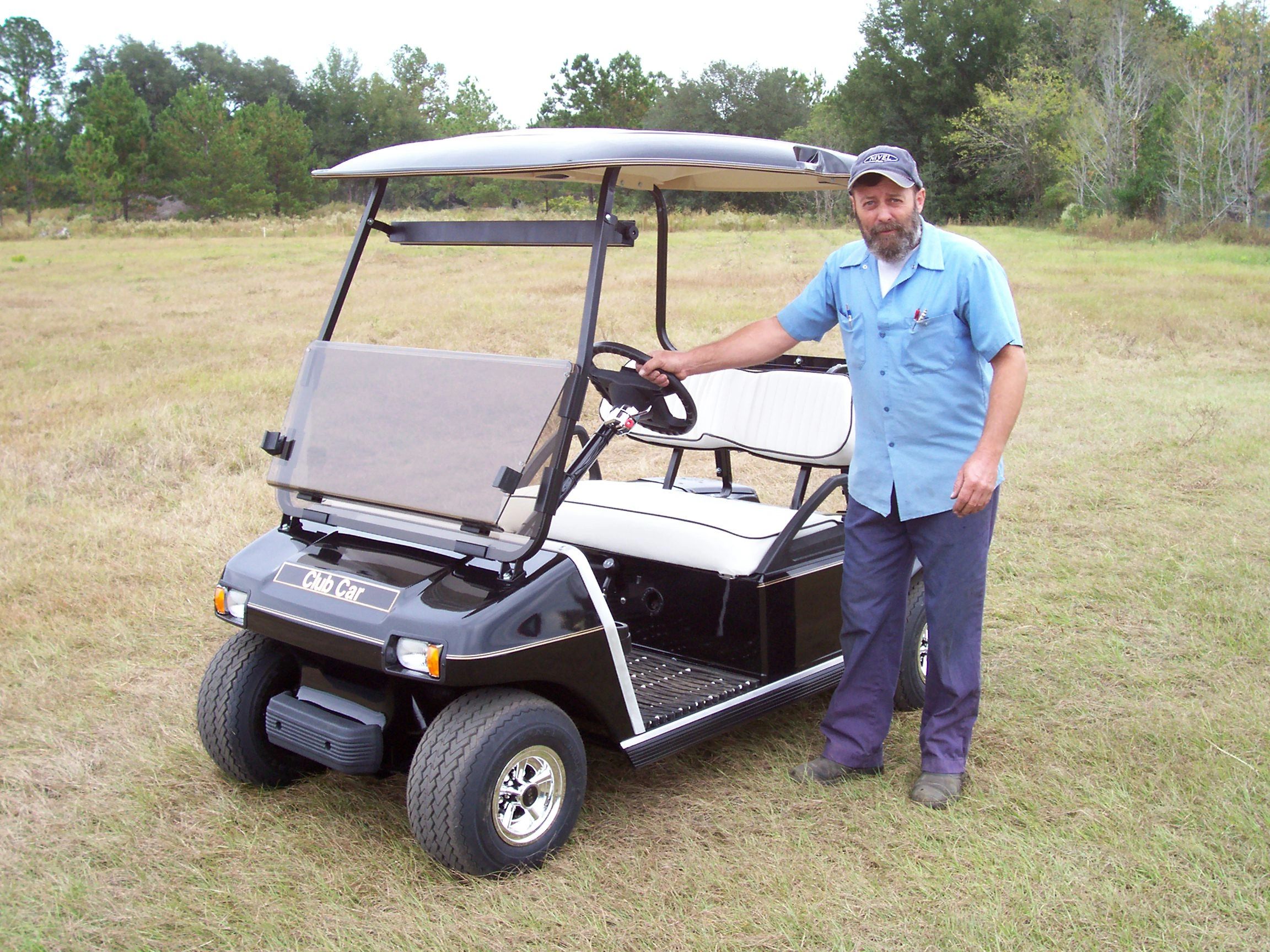 Our mechanics take pride in their work and like to show it off. How about this cart with custom seats, turn signals, traction mat, and check out those wheel covers. You know, we can even install lift kits, flip seats and custom mags if you like.